News
DERELICT SITE EARMARKED FOR REDEVELOPMENT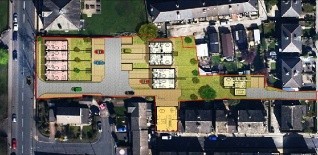 A PLANNING application has been put forward to transform a derelict site in Leeds into housing.
Westcourt Homes, part of the Westcourt Group, wants to build 10 houses on the plot, a brownfield site located between Old Road and New Street.
A former builders yard that has been empty for a number of years, it has previously caused local residents concern following spats of anti-social behavior, the housebuilder said.
If planning is approved, building work is set to begin around early 2017. Westcourt Homes will transform the site with a mix of three and four-bed townhouses and semi-detached properties, each with gardens and parking.
Tim Hodgson, director of the Westcourt Group, said: "If approved, the St John's View development will breathe a new lease of life into the area. A two-minute walk into the centre of Farsley, with fantastic transport links, residents will benefit from a host of amenities on their doorstep.
We've spent a great deal of time considering the internal and external design of the St. John's View houses, with particular attention placed on practical elements such as layout, storage and generous-sized garden plots. On submitting planning we have already had a request for further details from a prospective purchaser which highlights that houses are in demand in this area."
By Rachel Covill - Business Correspondent - THEBUSINESSDESK.COM